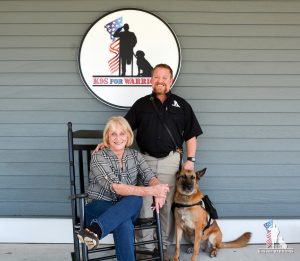 SHARI DUVAL is the Founder of K9s For Warriors.  K9s For Warriors was born out of a mother's love. SHARI set her mind to finding a way to help her son Brett, who came back after two tours in Iraq a different man. Brett was a bomb dog handler for the Department of the Army. Knowing there were hundreds of thousands of veterans experiencing a similar struggle with PTSD – Post-traumatic stress disorder (the "invisible wounds of war"),
Shari set her mind to finding a way to help.  With Brett's expertise in dog training as her motivation, Shari began K9s For Warriors in 2011 rescuing dogs and training them as Service Dogs for our veterans.
Since then, K9s has paired 630 Warrior/Service Dog teams and has saved over 1,205 dogs.
Watch as National Spokesman Ryman Shoaf for the WE CAN BE HEROES FOUNDATION presents the Yard Sign "Thank You to the Unsung Hero who lives here"  to K9S for Warriors Shari Duval.