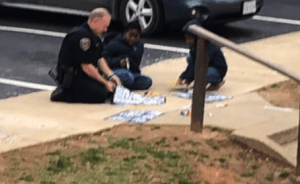 Gotham has Batman. Metropolis has Superman. Wakanda has Black Panther. And South Hill, Virginia has C.B. Fleming. Corporal C.B. Fleming may not run around the city wearing a cape and mask, but the neighborhood kids still call him Batman.The 42-year-old police officer is something of a local celebrity in South Hill, Virginia. He was given the affectionate nickname after he spent an afternoon ensuring that a group of children felt safe following a gas leak.
Fleming was just one of the emergency crew members who arrived at Iesha Roper-Boswell's home in response to the dispatch call last week. Once the house was deemed safe, he started chatting with Roper-Boswell. As they talked, the 28-year-old mother mentioned to Fleming that her daughter, niece, and fellow neighborhood kids were afraid of cops.
She was then stunned when – shortly after their conversation – she saw Fleming lying in the grass so he could play with the children. Not only that, the kids were happy to have another playmate, regardless of his uniform. Roper-Boswell pulled out her phone and captured a quick video of the heartwarming moment. Since uploading it to Facebook, it has been viewed thousands of times.
In addition to being a father of four biological and two adopted children, Fleming has been working at the South Hill Police Department in Virginia for the part of his community.last 15 years, and he says that he has always strived to be a positive part of his community. "It's something I've always tried to do," Fleming told WTVR of his interaction with the children. "When I got into this job, I knew there was something different, other than just writing tickets and being the bad person all the time. I figured if I could be that bright spot in someone's day then that's all that mattered."
And based on his latest interactions with the kids, it seems that he has succeeded. "He's awesome. That's the only word you can really use to describe C.B.," Roper-Boswell told the news outlet. "It's just amazing, the bond he has with the children. "For him to make my child feel like she's safe, she doesn't even have to call 911, she just has to call C.B. if she's in trouble. I'm glad he made this part of his job. He's changed my daughter and niece's lives."