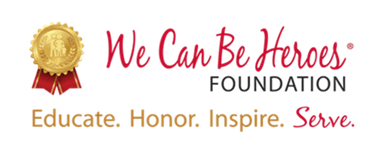 FOR IMMEDIATE RELEASE –October 24, 2020
Contact: Beth Heath, President
904 705-6439 – beth@wecanbeheroes foundation.org
Honored Business Directory
Businesses Sign Customer Pledge to Honor Americans
(JACKSONVILLE) – Customers expect businesses to comply with immigration regulations, but sadly, illegals are employed by some businesses. More and more businesses are signing a customer pledge to honor citizens and the immigration law as they join the Honored Business Directory.
The customer pledge also honors the service of our military and first responders by agreeing to prioritize the hiring of veterans, military dependents and first responders for the employment opportunities.
The We Can Be Heroes Foundation is proud to maintain this Honored Businesses Directory and joins consumers, veterans, first responders and active duty military around the world by supporting the honored businesses.  Visit the Honored Business Directory at WeCanBeHeroesFoundation.org or go to
All business owners are encouraged to take the pledge at the link and join the Directory free of charge to publicize their commitment to Americans.
#
The We Can Be Heroes Foundation Mission and Community Outreach:
We publicize Americans' courageous acts, and honor Veterans and unsung heroes.
In addition, we host educational forums to promote American values,
and help Veterans and those in need.
We also offer discount, business and help directories for the heroes we serve
and the people who support them.