Honoring World War II Veterans
Hear the story of the Navy heroes of Normandy.
June 6, 2023


D-Day Anniversary
5:30 – Social  |  6:00 Dinner 

| 

6:30 Presentation



       

Salem Centre Auditorium – 7235 Bentley Road, Jacksonville 32256
Guests of Honor: CAPT Gregory Streeter, USN, Ret., US Naval Order, John Connelly, Germany POW Army Air Corps, Julian Myra, World War II Veteran, Detective of the Year Billy Abbott, Police Officer of the Year Carl Whitt, Unsung Heroes Dianne Lavelle, Edith Dumm and Russell Greeney
For over 6 decades, there was not a Navy Memorial in Normandy honoring the men and women who gave their last full measure in the climactic World War II D-Day invasion at Normandy.  Meet Capt. Streeter, the local gentleman who spearheaded the beautiful Navy D-Day Memorial now at Utah Beach, Normandy.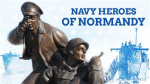 Mingle with World War II & U.S. Veterans, Unsung Heroes and Atlantic Coast Young Marines.
Please consider donating tickets for veterans and gold star families.
Reserve your seats or dining tables in memory or honor of World War II, and other U. S. Veterans, First Responders, Loved Ones, or Unsung Heroes you know or admire. Display memorabilia of your hero in the center of your reserved table. A table placard honoring your hero will highlight your reserved table.
Tables can be reserved for your family, group, or organization.
Tickets:  $35 or Table for 8 is $245
Reserve online at WeCanBeHeroesFoundation.org  –  Events   Info:  904 373-8817
Veterans and Gold Star Families: 10% Discount  | Tickets Donated to Veterans:  10% discount
Mail checks to: We Can Be Heroes Foundation, 14286-19 Beach Blvd. #120, Jacksonville, FL.  32250    
FLORIDA REGISTRATION #CH48313A  COPY OF THE OFFICIAL REGISTRATION AND FINANCIAL INFORMATION MAY BE OBTAINED FROM THE DIVISION OF CONSUMER SERVICES BY CALLING TOLL-FREE (800-435- 7352) WITHIN THE STATE. REGISTRATION DOES NOT IMPLY ENDORSEMENT, APPROVAL, OR RECOMMENDATION BY THE STATE.