Do you know someone who is a hero?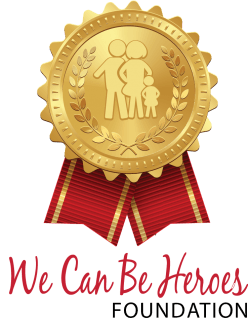 Mission and Community Outreach 
__________________________________________
We publicize Americans' courageous acts, and honor Veterans and unsung heroes.  In addition, we host educational forums to promote American values, and help Veterans and those in need.
We also offer discount, business and help directories for the heroes we serve and the people who support them.
The Foundation name reflects the spirit and honor surrounding Americans that make sacrifices each and every day by serving in our neighborhoods, our country and abroad.  Unsung Heroes walk among us.  We honor and dedicate this foundation to each American Hero.  
WE LIKE TO BE SOCIAL! FOLLOW US TODAY.
CONTACT US TODAY
Attention Businesses:  No need to contact us here.  Add your business at the above Business Directory. 
We Can Be Heroes Foundation
14286-19 Beach Blvd., #120
Jacksonville, FL 32250
Phone:  904 373-8817