Our Anthem – We Can Be Heroes
Written and Recorded by Ann M. Wolf
(Click The Play Button Below to Listen to our Anthem)
Visit Ann M. Wolf's Website
IF YOU WANT TO DONATE TO THE WE CAN BE HEROES FOUNDATION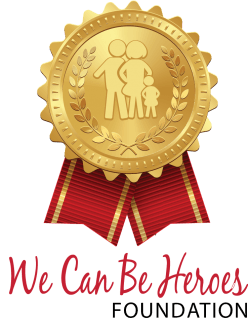 OUR MISSION
________________________________________________
We Can Be Heroes Foundation works to recognize courageous acts and great deeds across the country; hosts events to honor Veterans and community heroes; provides education on America's history; and helps veterans, senior citizens, low-income families, and students affected by government and other nonprofit organization's budget cuts.
The foundation name reflects the spirit and honor surrounding Americans that make sacrifices each and every day by serving in our neighborhoods, our country, and abroad.  Unsung heroes walk among us.  We honor and dedicate this foundation to all heroes!
WE LIKE TO BE SOCIAL! FOLLOW US TODAY.
We Can Be Heroes Foundation
14286-19 Beach Blvd., #120
Jacksonville, FL 32250
Phone:  904 373-8817