DONATIONS
Support our Mission.  Honor Your Hero.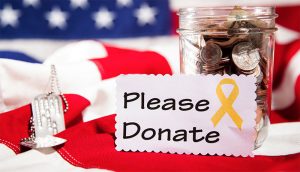 We Can Be Heroes Foundation is an all-volunteer not for profit 501(C)3 public charity.
We humbly ask you for support as we're faced with so many veterans and neighbors who continue to need our help during these challenging times.
Donations are tax deductible under IRS Section 170 to the extent allowed by law. All donations go directly to fulfill our mission and community outreach.
No salaries, travel or expenses are paid to our volunteers and staff and no office or building is maintained, eliminating these typical overhead expenses most charity's incur.
Your donation is 100% tax deductible*and allows us to continue our mission through:
Food drives and assistance to homeless veterans and those in need;
Educational seminars to inspire American values;
Free informational directories for military, veterans and consumers;
Honoring exceptional Americans doing extraordinary deeds. 
Distinguish Someone in Perpetuity on Our Wall of Heroes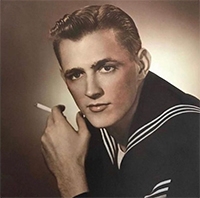 For donations of $75 or higher, you can honor someone special in your life with their name, photo and one-line description on either our "In Memory of" page or "In Recognition of" page.
After you make your donation, simply send a link to a digital photo, along with the person's name and one-line statement either in memory of or in recognition of, to Honor@WeCanBeHeroesFoundation.org.
Your honoree will join our Wall of Heroes and we'll send you the link to share with family and friends.
Our volunteers serve those in need…
Will you be THEIR HERO by helping continue their work?
Please donate by clicking the link below or calling 904-373-8817 Monday through Saturday between 7 a.m. and 8 p.m. ET. If you prefer to use a credit card without PayPal processing, call 904 373-8817 for direct credit card processing through the Square credit card processing service. Mail checks to:
We Can Be Heroes Foundation
 14286-19 Beach Blvd., Ste. 120
Jacksonville, FL 32250
Thank you for your support!
SPONSORS
The scope of services and education we provide is made possible by friends, businesses, and organizational sponsors like you.  We are always happy to discuss your interests and various options with you. 
EVENT SPONSORS AND EXHIBITORS
We Can Be Heroes Foundation events throughout each year offer an opportunity for you to take an active part sponsoring, co-hosting, and supporting programs to recognize Heroes.  Our events attract publicity and attendees from all walks of life and are heavily attended by Veterans, Senior Citizens, and Community Activists.   Sponsors receive custom incentives, such as media promotions, publicity, exhibitor tables, VIP experiences, blocks of tickets and more.  Each event is tailored to the audience, message and venue.   Events and classes are offered by a presenting co-host or multiple sponsors with OnDemand and YouTube recordings for your continuing publicity long after the event.

Recurring opportunities at We Can Be Heroes Foundation events include the Annual Heroes Gala, Military Birthday Celebrations with Our Heroes, Luncheons for Homeless Veterans,  Crash Courses on Defending the Constitution, Purple Heart Breakfasts with Our Heroes, Korean War Remembrance Breakfasts, Pearl Harbor Remembrances  with Our Heroes, and various Educational Classes.  Speaking opportunities, special appearances and credits in OnDemand and YouTube recordings are available for co-hosts and sponsors.  Please contact beth@wecanbehereosfoundation.org.  
Donate Auction and Thrift Shop Items

Donate and recycle your extra new and like new items.  You can donate tax-deductible goods and services to our online Thrift Shop and Auction Events.  Call 904 373-8817 or email beth@wecanbeheroesfoundation.org for delivery locations near you or to arrange pick up in NE Florida. Your Donation Receipt is waiting for you.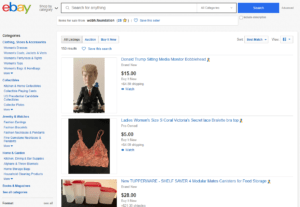 DONATE TO HOMELESS VETERANS
"We Don't Know Them All… But We Owe Them ALL." Thank you for remembering those that served in defense of our freedoms.
About the Clara White Mission: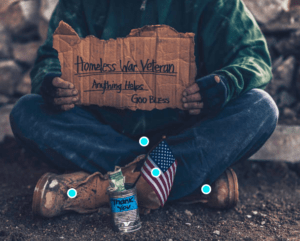 Located in the highly populated veteran city of Jacksonville, Florida, the Clara White Mission Veteran Program has been designated for delivery of food and goods  because of their overall program success. 
This Mission provides a clean, welcoming place for Veterans in-need to live while working toward permanent and independent living with 24 months.  Residents are required to be employed and/or currently enrolled in school; participate in case-management and life-skill classes; complete health and mental health assessment and counseling; maintain required sobriety; and participate in substance abuse education classes and support. 
This Mission's very successful transitional housing and Drop-In Day Center are facilities focused on providing resources to assist homeless, low-income veterans in-need.  As veterans graduate, the Mission assists them with some basic housekeeping furnishings for their new independent living residence so the need for furnishings is an ongoing cycle for new veterans entering the programs.  Their Boulevard House is a women veteran's facility and the Ashley Street facility has a large portion dedicated to men veterans.
What is needed: 

Food Items:  Non-perishable, individual serving of prepackaged or canned items with pop-top tabs, such as Vienna Sausage, Beanie Weenies, beef jerky, tuna, sardines, granola, cereal and power bars, fruit cups, cheese and peanut butter crackers, cookies, snack packs or similar.  
$10 Gift Cards: Dollar General, 7-11 or Wal-Mart.  Gift Cards provide a dignified means for veterans to purchase their essential personal items.  These stores are close by the Mission and cards are raffled at the Luncheons for Veterans in-need frequently provided by the We Can Be Heroes Foundation.  

JTA Bus Tickets for work and appointments.  Can be purchased at most Walgreens .  

Toiletry & Personal Items:  Shower/flip-flop shoes, body soap and wash, deodorant, tissues, lotions, shampoo, mouth wash, tooth paste, tooth brushes, combs, brushes, nail clippers and files, disposable razors, ditty bags, backpacks, individual sewing kits, tissues, sanitary items & items favored by women.  Sample sizes of toiletries, such as those at hotels, is also suggested. 
Clothing: Socks, size 8-13, Tee shirts size L – 2XXL, men's brief size 36-44, belts, shorts, jeans, hats and skull caps. 
Bed and bath:  Twin sheets sets, blankets and spreads; clock radios, bath, hand and wash towels, and  new pillows.
Cleaning: Disinfectant sprays, sanitizing wipes, laundry detergent.
Miscellaneous:  Foot lockers, umbrellas. 
Where to donate in Northeast Florida: 

Westside: Contact Veteran Volunteer Steve  -904 334-7634
Southside/Arlington:  Contact Volunteer Debbie – 904 402-2172 
West Beaches:  Contact Veteran Volunteer John  – 904 705-6439 
Ponte Vedra Beach:  Contact Volunteer Ann – 904 285-0579 
Other locations:  Contact Volunteer Beth – 904 705-6439
Ship directly to Director of Veteran Affairs, Clara White Mission, 613 W. Ashley Street, Jacksonville, FL 32202.  There is no need to specific delivery time when shipping – Security Guards can accept deliveries after hours.