UPDATE: Bob Tipton passed away September 2, 2020. He is sorely missed. His story is inspiring and endearing.  He touched many.  Let him inspire you to follow in his footsteps in service for all that is good in this, the greatest country ever … and anywhere….and always…..the USA.  His story is inspiring and endearing.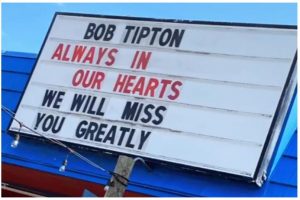 For decades, Bob Tipton has been an Unsung Hero, Champion and Friend for those in-need, Community Leader, Model Citizen, Respected American Patriot, and Volunteer Extraordinaire for Northeast Florida.   
Bob is the "go-to guy" to spearhead charitable, patriotic and community action functions, whether the job is to raise money to assist those in-need or to bring his charming and caring personality into the lives of the neglected and lonely.  He stays informed on issues and acts to solve problems.  This Navy veteran, with his adorable wife, Jodi by his side, has done more for many that anyone can imagine.  A few examples of Bob's special achievements in community outreach and service to our country include:
Organizer for large Casino Night fundraisers to fight cancer and child abuse.  He helped build the casino games and tables and stored them for years.  His warm personality made him a popular dealer at the functions.     
Key organizer and tireless worker to build the popular Beaches Sunshine Park, the large, child friendly park in Jacksonville Beach.
Recipient of multiple awards for his outstanding community service from the Beaches and the State Exchange Club awards.   
Recipient of the National Exchange Club's Book of Golden Deeds for his dedication and endless hours to make his community a better place to live.   
Designated the Neptune Beach Fletcher High School "Super Senator" in 1980 for fundraising to help students.
Actively participated in the Rehab Project for the old Jacksonville Beach Elementary School. 
Set up several projects at community Boys and Girls Clubs.    
Active Benghazi Tribute Team Member and lead fundraiser for Annual Benghazi Memorials to honor the Heroes of the Battle of Benghazi.
Active supporter and fundraising participant with the We Can Be Heroes Foundation Team to assist homeless veterans, honor America's Veterans and Heroes and provide education on America's history.
Active patriot and First Coast Tea Party Advisor to help government representatives "right the wrongs" that sometimes happen.  His advice and wisdom are respected by the government and citizens.  
Bob and Jodi volunteered at the Jacksonville Shands University Hospital to help care for infants subjected to prolong exposure to crack cocaine.  They cared for these "crack babies" 4 times a week for many years.
Nearing their 80's Bob and Jodi began gathering the unused flowers every morning from the Jacksonville Beach Trader Joes.  The Tipton's deliver the flowers without charge to shut-ins, lonely residents, nursing homes, churches, nonprofits, police stations, schools, and service organizations. 
Well Done! to two visionary volunteers who have been serving others for decades and unselfishly dedicate the time and effort of Unsung Heroes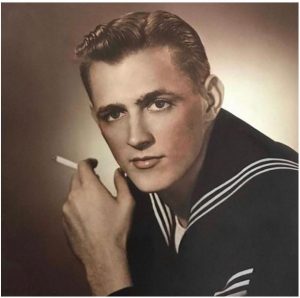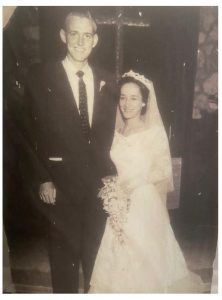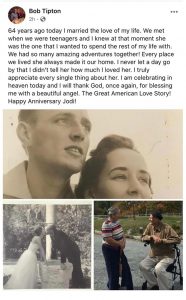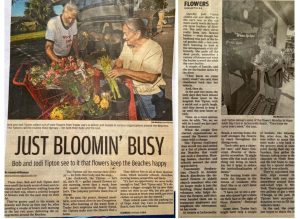 Nominated by Ann Cook and Beth Heath July 2, 2020 – Updated Sept 5, 2020