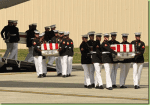 Heroes of Benghazi Returning Home.
Every year on the last Monday in May, Memorial Day honors our fallen heroes. Originally known as Decoration Day, the federal holiday sprang from the War Between the States when the women of the South placed flowers in full bloom on the graves of the battle dead. The tradition quickly spread throughout the country and included artificial flowers and other decorations in colder climates.  For veterans of all ages—whether they recall it as Decoration Day or Memorial Day—the holiday is traditionally infused with meaning.
Some ways to observe Memorial Day include:
Try not to say "Happy Memorial Day". We are honoring our military heroes who sadly did not make it home. You might say something like, "I'm remembering our fallen heroes."  Save thanks for Veterans Day.
Educate your youth. By providing our youth with an engaging exploration of American history, you can cultivate a deep respect for the values and principles that our military has valiantly defended. There are many accurate online history sources for youth, such as the Little Patriots Program or Prager U for kids.
Visit a cemetery.  Place a coin or a U.S. flag at the markers of those who served. Typically, the marker will indicate if served or the branch or service. Take children with you to learn to honor those who serve, help you find the military markers, or add a symbolic coin on military markers but don't touch any existing coins. 
Place a coin on the headstones of one who served to show respect and honor. This lets the deceased service member's family know someone who cares was there. The denomination of the coin has a distinct and significant meaning. Click here for the meaning behind the coins.
Participate in a Remembrance at a Veterans Organization or Post or a City Observance. 
Best wishes for a blessed and safe Memorial Day as we remember the fallen and do our part to defend our Constitution.
We Can Be Heroes Foundation Volunteers
Our Mission and Community Outreach
WE CAN BE HEROES FOUNDATION publicizes nominations from across America, including first responders, community volunteers, veterans, and youth. Offer the online Wall of Heroes photo gallery for the public to honor their past and present heroes. Host tributes to heroes and educational forums on America's founding values and the Constitution, and help veterans and those in need. We offer the Heroes in Business Directory for consumers and the Speakers Directory for event planners. Proud sponsor of the Atlantic Coast Young Marines, Veteran Groups, Filipino-American Clubs, and the Asian American – Pacific Islanders.