Our Mission and Achievements
We Can Be Heroes Foundation Mission and Community Outreach:
We publicized nominations from across USA for courageous heroes and unsung heroes, including first responders, community volunteers, veterans and youth. In addition, we host tributes to heroes, educational forums to promote American values ,and help veterans and those in need.  We also offer the online Wall of Heroes for the public to honor their heroes, the Heroes in Business Directory and the Speakers Directory for those seeking event speakers.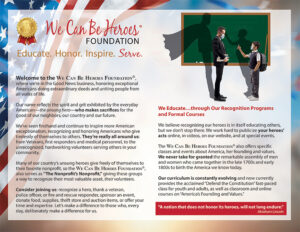 Summary of Significant Achievements
From our beginning in 2016 to Present.  As an all-volunteer charity without the typical overhead expense of salaries or rent to pay, your donations go to offering the following quarterly and annual events, education, and information to honor America's Heroes.  Most events are filled.  News, social media, and online articles of our work, stories, and directories reach countless millions. Hundreds attend our live events. 
Tributes to Our National Heroes with widely known speakers to recognize America's National Heroes, including the Heroes of Benghazi, World War II, Purple Heart, D-Day, and our military services.
Tribute to Our Unsung Heroes with well-known speakers to recognize Unsung Heroes for their sacrifices for the good of their neighbors. Nominations from the public and groups around country are received to recognize and thank first responders, community volunteers, veterans, and youth. 
Breakfasts with Our Heroes for the public to meet veterans and community unsung heroes.
Presentations of Hero Yard Signs to Unsung Heroes.
Luncheons for Homeless Veterans with carry-out ditty bags of non-perishable food and clothes.
Food and Clothing Drives for the homeless and veterans in need.
Classes on preserving the Constitution with a national lecturer and light dinner. These classes receive rave reviews. 
Classroom Book Reviews by distinguished scholar and retired Naval Officer.
Free Heroes in Business Directory for shoppers and small business owners.
Free Keynote Speakers Directory for those seeking event speakers.
Provide opportunities for youth to participate in our events as wreath bearers, greeters, color guards, and stage performances. 
Sponsor or co-host events with the Atlantic Coast Young Marines, a high school club, Asian American – Pacific Islander Clubs. 
The online Memoriam Wall of Heroes and the Recognition Wall for the public to honor their heroes were added in 2020.
Responding to Emerging Community Needs
In 2020, the We Can Be Heroes Foundation led the community effort to provide the first Recreation Room for homeless veterans at local Mission.  We secured painter, furniture, indoor game tables, & military wall hangings.
2020-Present. Homeless veterans seeking help in Florida increased significantly with their loss of jobs and homes due to COVID.  We led community-wide drives, and delivered loads of nonperishable food, supplies, masks, sanitation wipes, gloves, clothes, and blankets.  Drives are continuing.